St. Dunstan's Cadet Challenge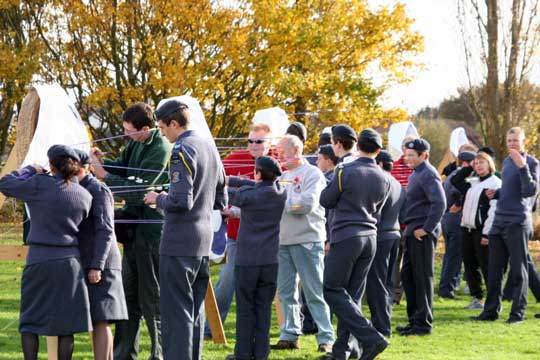 Bridget Fowkes.
St Dunstan's were the clear winners of a competition with novice archers of Romney Marsh Air Cadets 2513 Squadron on Sunday, 04 November at the Marsh Academy in New Romney. The event was held to raise awareness of St. Dunstan's and the tremendous work that they do. St Dunstan's coaches said their secret weapon was wheelchair and British Blind Archery Champion, Peter Hammond shooting with Ron Jones and novice St. Dunstaners Gerry Jones, and Colin Williamson.
Among the spectators at the shoot were councilors from the Marsh and KAA President Mike Brighton, who said: "It was a great idea and he had thoroughly enjoyed the day."
The Cadet's, holders of the National Trophy for last year's St Dunstan's Cadet Challenge, shot twenty yards at target faces representing RAF roundels; the required thirteen miles of walking was covered by the thirty cadets shooters, spotters and scorers walking the forty yards to and from the targets over twenty ends.
An additional team competition was held between the three cadet units in the squadron; the three teams, known as Red, White and Blue, were each assisted by St. Dunstan's archers.
The aim of the Challenge is to raise awareness of the work of St Dunstan's in providing training and equipment for all Crown personnel who are visually impaired or totally blind, including members of the emergency services.
The Cadets were trained by Ray Axford, Peter Good, Paul Rushton, Peter Fletcher and Malcolm Kimpton, five members of Romney Marsh Bowmen. They had taught the cadets to shoot blindfolded, but unfortunately this was disallowed by a senior officer, so on the day of the competition they had to shoot sighted.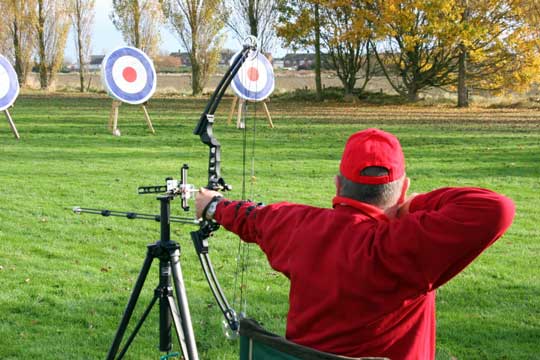 Bridget Fowkes.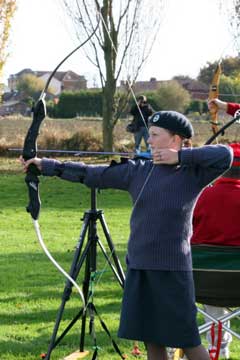 Bridget Fowkes.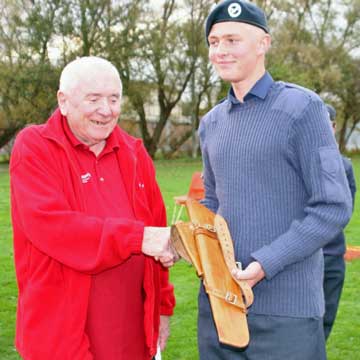 Bridget Fowkes.
At the end of an enjoyable day St. Dunstaner Ron Jones presented Jamie Asquith, the best cadet archer of the day, with a leather quiver. The cadets' Commanding Officer, Flt. Lt. David Law, and several of the cadets want to continue with this sport.
St. Dunstan's is based near Brighton and is a charity that helps all Crown personnel who have lost their sight either during or after service. Although originally it was limited to military personnel, more recently its work has expanded to include the emergency services and other Crown personnel.
The first step back to independence is a talking or Braille watch, followed by talking computers and mobile phones. St Dunstan's provides equipment and training, to help its members lead as independent a life as possible and is heavily dependent on public donations for this work. It also provides training in sports and many St Dunstaner's enjoy competing in a variety of sporting events.
The Cadet Challenge was started when a cadet in London lost his sight and an arm due to a booby-trapped torch. Some St Dunstaners have lost their sight during the present conflicts in Afghanistan and Iraq. Anyone wishing to sponsor the cadet challenge can still do so through the cadets, leaders and training team. The Cadets are at their unit in the Marsh Academy on Tuesday and Thursdays from 7.30 pm.
For more information about St. Dunstan's, visit their web site, or for more information about the cadet challenge, visit St. Dunstan's Go the Distance (expired link).