SCAS Junior Inter-Counties 2010
The SCAS Junior Inter-County Team Tournament was held at Belhus Park in Aveley, Essex on Sunday, 15 August 2010. This year was the eighth time for the junior archers of the region to gather at Belhus Park for these championships.
The Lady Paramount for the day was Mrs. Rachel Jackson and the judges were Mr. R. Frost and Mr. D. Sizeland.
In all there were some 44 recurve and 22 compound competitors representing seven county associations from the region.
The weather was kind, being slightly cloudy with odd periods of sunshine and an easterly wind to contend with. This lead to an excellent day's shooting for most and in general scores were of a high standard with two "Six Gold Ends" and 17 "Rose Awards" claimed.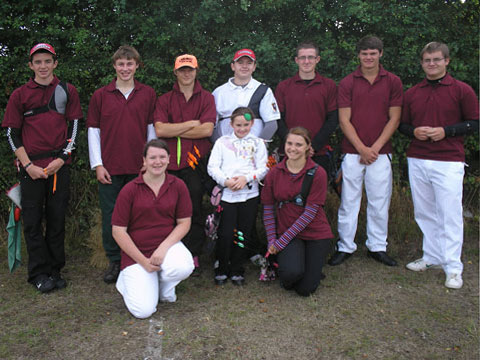 Mandy Warren.
The winners of the compound division were Sussex with a score of 3702, followed by Essex with 3677. The Kent team of George Flegg, Philip Gower, Piers Lawrence and Ellie Outram ran in third and collected Bronze Brooches for their score of 3552.
Piers (with his new compound bow) and Philip were running neck-to-neck until just before the end, when Piers jumped ahead of Phil by 8 points to put himself at the top of the leader-board. Piers had not been sure whether to shoot, as he had been trying out a new bow and didn't think he would be ready in time, but this performance shows that he could well be a force to be reckoned with!
In the recurve division Michael Simpson was just pipped to the post by Jamie Fisher from Norfolk and Adam Outram was held at bay by two of the Berkshire archers. The final result went to Essex, followed by Sussex and Berkshire; Kent finished in fifth place.