County Match, 24 August 2014 - Match Report
Bob Beaney [Ashford Archers].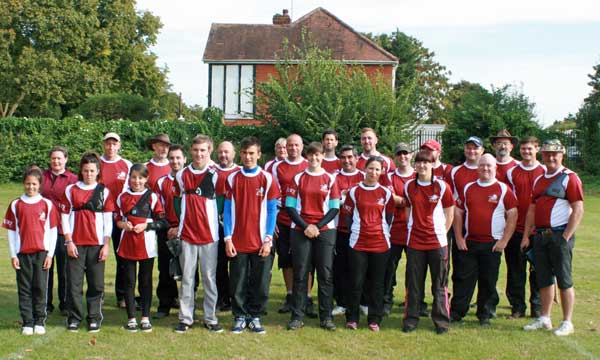 Bob Beaney [Ashford Archers].
The Kent county team for the 3-way match on 24 August 2014.
On Sunday, 24 August an enthusiastic team arrived at Spelthorne, Middlesex to represent KAA at the annual 3 way shoot. On arrival we were made to feel very welcome with a brew provided to start the day, following what had been a bit of a trek for some of the team. Despite this Kent were represented in all four bow-styles, Compound, Recurve Freestyle, Recurve Barebow and Longbow by Senior Gents and Ladies and in Recurve Freestyle in the Junior division.
This was also the first time that the team stepped out in our new resplendent strip, which attracted admiring glances and comments and was well received by the team, both for the team spirit it provided as well as the comfort and performance.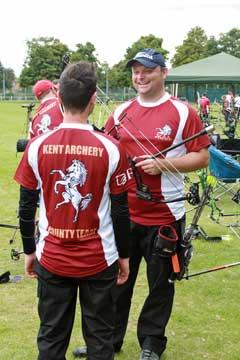 Bob Beaney [Ashford Archers].
Even time for light relief.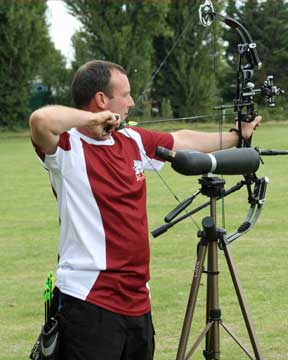 Bob Beaney [Ashford Archers].
Mike Aldridge shooting compound.
The match got underway beneath clear blue skies and a chorus from the famous wild parakeets that inhabit the area on what promised to be a good day. The rounds shot were the York, Hereford and Bristol and everyone settled in for the marathon 6 dozen at the longest distance.
After three dozen we had a comfort break where our hosts provided yet more refreshments; this proved to be welcomed by some, but not by those archers 'in the groove'! At the end of the first half we were lying:
2nd in Compound by 22 points,
2nd in Recurve Freestyle by 11 points,
3rd in Barebow by over a 100 and
2nd in Junior by about 60.
This last was a little confused by Surrey having only 3 archers and our host, Middlesex, suggesting an amendment to the archers to count; we agreed on the basis of a friendly match.
The afternoon was overcast and at one point the temperature dropped and it threatened rain, but it held off and conditions remained favourable. The shooting was solid with some admirable performances provided by some of the first time team members, giving some of the regulars a run for their money, regardless of any nerves that they might have had.
In the end Kent came a respectable 2nd. overall, behind Surrey and with our hosts coming in third.
Results:
Compound
Recurve Freestyle
Recurve Barebow
Longbow
Juniors
Overall
1
Surrey
6056
Surrey
7134
Surrey
2589
Kent
1947
Surrey
3475
Surrey
20994
2
Kent
6008
Kent
7089
Middlesex
2307
Surrey
1740
Kent
3427
Kent
20771
3
Middlesex
5615
Middlesex
7049
Kent
2300
Middlesex
1032
Middlesex
3328
Middlesex
19331
Results corrected 01 September 2014

A very enjoyable day was had by all and our thanks go out to our Judges, Spelthorne Archers and to our hosts Middlesex Archery Association, who made us feel welcome throughout the day.