Kentish Cupid Trophy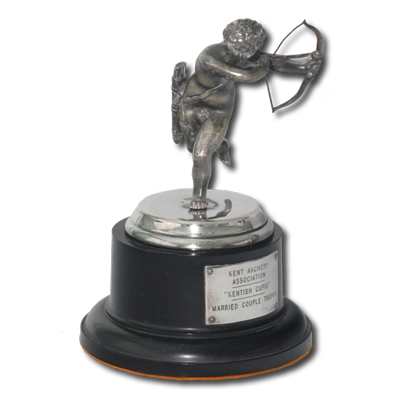 Description
Cast Cupid model, mounted on wooden base.
Presented at
Kent Target Championship & Open Tournament.
Presented to
Kent married couple, both shooting recurve, with the highest combined score.
Qualification
No longer awarded.
First Awarded
Origin
Status
31 Aug 2013: Retired as part of the on-going review and simplification of awards.
Previous Use

31 Aug 2013: While originally envisaged as encouraging family participation, there are now significant legal and cultural issues with the award criteria. It has become commonplace in recent years, that nobody or only one couple fulfil the award criteria, so there is no effective competition for the award.

???? - 2013
Open only to members of the Kent Archery Association.
Open only to:

senior ladies shooting the Hereford round with the recurve bow and
senior gentlemen shooting the York round with the recurve bow.

Couples do not require nomination or entry for the award in advance.