SCAS County Team Championship
The SCAS County Team Championship (more commonly known as the SCAS Inter-Counties Team Tournament, or just the SCAS Inter-Counties) was held on 11 September 2011 and

d teams from 10 County Associations from within the region.

Congratulations to our compound teams - both the senior and junior compound teams finished in 3rd for the bronze medals; our recurve teams finished 7th in the senior and 4th in the junior classes. Full results can now be downloaded - team and individual results are all

d.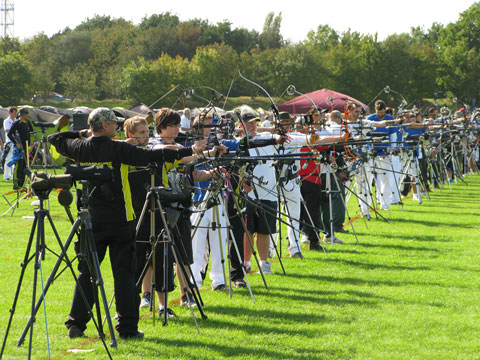 Mike Brighton.
A view along the shooting line, featuring the Gents' Compound.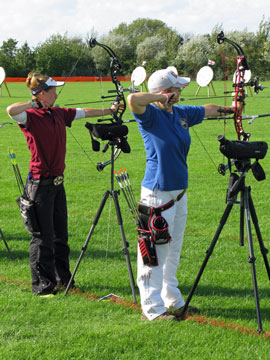 Mike Brighton.
Vikki Flack (Kent) shooting with Andrea Gales (Surrey).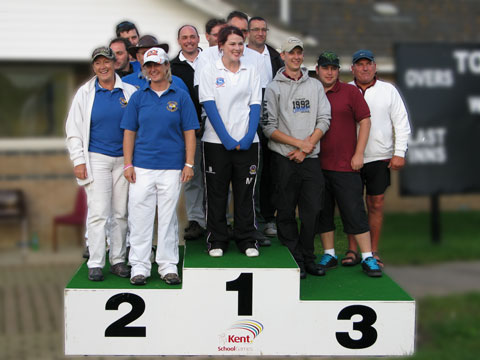 Mike Brighton.
The Winners' Podium - the Senior Compound teams.
The event was jointly hosted by the KAA and the University of Kent, Canterbury; this was the first time that we have worked with external partners to put on an event and it certainly looked impressive with a shooting line over 150m long, running almost the full length of their sports field. It was also the first time since 1993 that we have hosted this event and the first time for 8 years that the senior and junior championships have taken place together.
The Tournament Organiser would like to thank:
the University of Kent for all their help and advice and for a truly superb venue for the event,
KCC Sport, Leisure and Olympics
and the members of the Kent Archery Association who helped organise the event and for their work setting up, during the tournament and clearing afterwards: Adam Kenyon (Field of Play Manager), Mike Brighton, Ted Essex, Tony Henwood, Mike Higgins, Mark Hudson, Lisa & Robyn-Marie Kenyon, Carl Ladd, Trish & Derrick Lovell, Ron Simpson, Leah Smith, Neil Turville and Michael Walton.
The judges report also made special mention of the quality and enthusiasm of the work party - so congratulations again.